Baseplates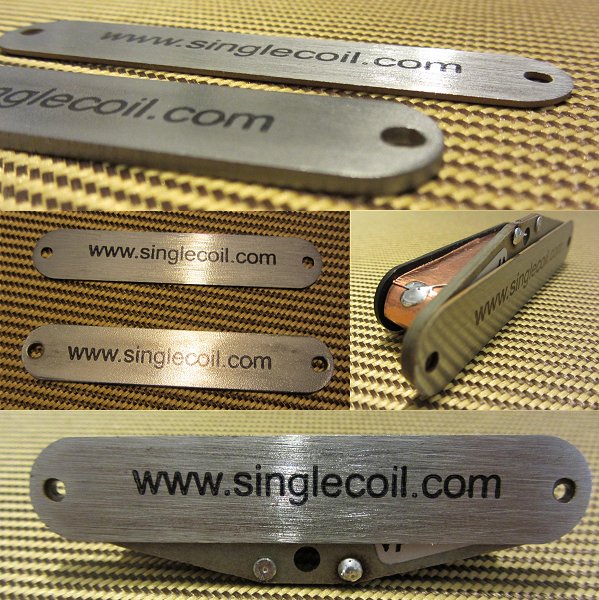 Here are our ready to drop in metal plates that you can put under every singlecoil pickup to enhance bass response or to give your Strat's bridge pickup the character of a Tele's bridge pickup. You can also use them to make your singlecoil pickup sound like an overwound type, increasing its output. They are made out of metal and you can put them underneath every singlecoil pickup you want to, the pickups magnets will hold them in place so you can try them out. For a permanent use you should attach them as described in the manual. There are also additional holes drilled into the plate for a perfect fastening underneath a Stratocaster pickup. You can order them as an individual item or in sets of two or three plates. This plates have the same quality (maybe in some cases an even better quality) as those from the big companies, offering them for $15 or more a piece !!!!
We make two different versions of the baseplates, please specify what type you would like to have:
normal version: If you want to improve your bass response, add some nice mids like from an overwound Strat pickup (think Fender "Texas Special" pickups) this baseplate is the right choice for you ! Itīs also ideal for adding a special touch to your tone.
Telecaster version: This baseplate is designed to give your Strats bridge pickup the tone and feel of a nice Telecaster bridge pickup. It offers the exact specs, material and mass of a vintage Telecaster bridge pickup baseplate, but in a Stratocaster shape. Itīs only recommended for the bridge position, sold seperately and not in sets ! But you can mix the two types, eg. one Telecaster type plus two normal types.
If you want to find out more about baseplates in general, please have a look at our baseplate column, that was published in the "Premier Guitar Magazine" in the August 2007 issue.
Our customers can download the detailed manual how to install the baseplate and some more interesting technical details H E R E You will need a password to open the file and we will only send it to verified customers - sorry, no exeptions !
Prices:
$ 6.05 / 5.50 €uros for 1 baseplate (SKU: basepl-single)
$ 11.00 / 10.00 €uros for 2 baseplates (SKU: basepl-double)
$ 15.40 / 14.00 €uros for 3 baseplates (SKU: basepl-triple)
Prices incl. VAT - packing, delivery and PayPal charges will be added additionally